Location / Getting to Tofino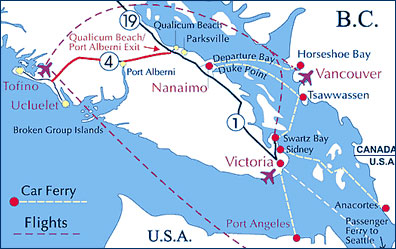 Chesterman Beach is a 1.7 mile stretch of sand bordering the Pacific Rim National Park Reserve on the West Coast of Vancouver Island. At the center of the Clayoquot Sound UNESCO Biosphere Reserve, here is where majestic temperate rainforest meets the shores of the open Pacific Ocean.
The abundance of flora and fauna and the beautiful surroundings create a magical place to explore. This biologically rich and extremely fascinating area draws people from all around the world.
Map courtesy of Long Beach Maps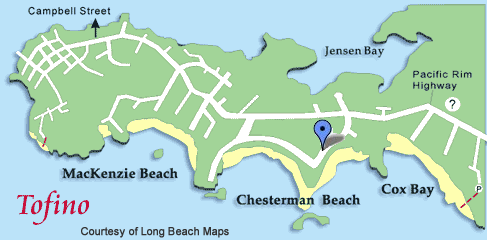 Chesterman Bed & Breakfast is located just five kilometers from the downtown center of the Village of Tofino, where you'll find all necessary amenities, including many fine restaurants, two marinas, seven art galleries, four grocery stores, numerous gift shops, a performance theatre, a hospital, and health services. Native art and culture thrives throughout the Clayoquot Sound Region, and has become a popular local attraction.
Map courtesy of Long Beach Maps
Ferries to and from Vancouver Island:
BC Ferries (Between Vancouver and Vancouver Island): 1-888-724-5223
Victoria Clipper (Between Seattle and Victoria) : 800-888-2535
Coho Ferries (Between Port Angeles, Washington and Victoria): (360) 457-4491 or (250) 386-2202
Airlines:
Orca Air (Scheduled flights between Vancouver & Tofino): 1-888-359-6722
Kenmore Air (Scheduled float planes to/from Seattle): 866.435.9524
Buses/Shuttles:
Tofino Bus (Daily service from Vancouver, Nanaimo and Victoria): 1-866-986-3466
Car Rentals:
Budget Car Rental (At Tofino airport): 1-250-725-2060
Driving Directions
Chesterman Beach Bed & Breakfast is about a 5 hour drive from Victoria and about 3 hours from Nanaimo. From Nanaimo, follow the highway north and take the Port Alberni exit onto the Highway #4. Follow Hwy #4 over the mountains to the west coast. When you reach the junction where Hwy #4 splits north and south, turn right and travel through Pacific Rim National Park (29 kilometers). Outside the National Park boundary, you will enter the District of Tofino. After passing the Tofino Visitor Center and Rosie Bay Estates, take a left at Chesterman Beach Road (1.1 km past the Tofino Visitor Center). Follow this road around the beachfront until you get to 1345 Chesterman Beach Road. Turn left at the Chesterman Beach Bed and Breakfast sign designating our driveway.